ABOUT AURES

Developed by the AURES Group, a French-owned technology company, the Point-of-Sale equipment we sell on this website are of a design and quality that is remarkably different from other brands. In complete contrast to the severe, austere, angular lines of traditional POS Terminals, the contemporary gentle curves and colour combinations of AURES equipment display plenty of character whilst blending perfectly with any style or store identity.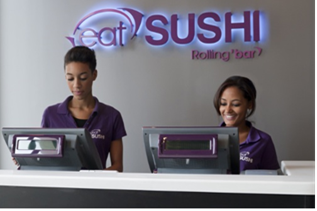 Combined with subtle and discreet materials – plus modular, distinctive colours – AURES designs are the solution for giving you EPOS to match your store décor.
The AURES concept is the fruit of strategy, experience and expertise developed over twenty years. It emerged from one significant observation: it is no longer enough to have the right technology and features no matter how advanced they may be, retail chains wish to be able to have a choice in terms of form and colour in order to maintain their image and visual identity - all the way to the till. Long neglected, the design, colours and ergonomics of IT equipment are in fact key components of the sales environment for sales staff and customers alike.
The goal of the AURES concept is to put the cash desk area back at the heart of the point-of-sale atmosphere, décor and brand image. Adding a touch of colour to the cash desk via AURES unique "Clip'n Colour" system of interchangeable clips, provides for many different colour combinations to blend in with any point-of-sale environment.
All AURES POS equipment uses the very best in retail and POS hi-tech capabilities and feature easy access maintenance ergonomics. AURES POS Terminals integrate the latest generation of powerful processors with RAID and mobile technologies such as WiFi, RFID etc.
New generation AURES POS terminals also feature the innovative Aures Hardware Status Display (HSD) utility which allows users to check the status of their POS equipment in Real-time. The terminals touch screens or control windows can be used to display status information such as processor temperature, fan speed, cooling system and hard drive performance etc. HSD can even send alert emails to designated email addresses with system status reports on all AURES terminals in the chain.