Contact
Sales Enquires
All enquires regarding sales and quote requests should be forwarded to our sales team at:
Email: sales@eurosoftpos.ie or sales@eurocompsys.ie
Tel: +353 1 2967444
FAX: +353 1 2967445
Mobile: 086 3870805
Office hours 9am to 6pm Mon to Friday.
Customer Service and Client Care
All inquires for order status, shipping questions or account information updates can be found on our website; however, should you be unable to find the answer to your question you can phone or email us at enquiries@eurosoftpos.ie.
Accounting Department
All queries regarding accounts should be emailed with the relevant order number and account name to enquiries@eurosoftpos.ie
Collection of Goods
If you're planning a trip to our offices to make a collection, first make sure you have received a collection notification or check your online order status to see if it shows "Awaiting Collection". Then you can use the directions and maps below to plan your route.
Coming from the M50:
Take the Ballinteer/Dundrum exit slip road which takes you down to a large roundabout. Take the 2nd left turn off the roundabout onto Ballinteer Road and continue straight down that road for about a Kilometre (you will pass through another smallish roundabout about half way down). As you approach the next big roundabout in front of the entrance to the Dundrum Town Centre take the slip road left which is the Wickham Bypass and stay on that road down for about half a kilometre until you get to the Luas suspension bridge spanning the main intersection. Take the first left slip road before the traffic lights at the bridge which takes you onto Churchtown Road. Go straight up Churchtown Road for around half a kilometre (you will pass through 3 sets of traffic lights) and take a left turn at the fourth set of lights at the Bottle Tower Pub. Then take the next right onto a road that curves to the right which brings you onto Nutgrove Avenue. Turn left onto Nutgrove Avenue and continue straight for around 1 kilometre until you come to the 2nd set of traffic lights just past the LIDL store and entrance to Nutgrove Fire Station on the left. Turn left at the traffic lights and then take the next left which is the avenue that leads to the Nutgrove Retail Park and the Nutgrove Office Park. Continue down the avenue past the retail park until you enter the Nutgrove Office Park. Follow the avenue around to the left and take the 2nd left turn off the avenue into the road for BLOCK F. Our office is about mid-way down on the right hand side. There is a balcony above the entrance.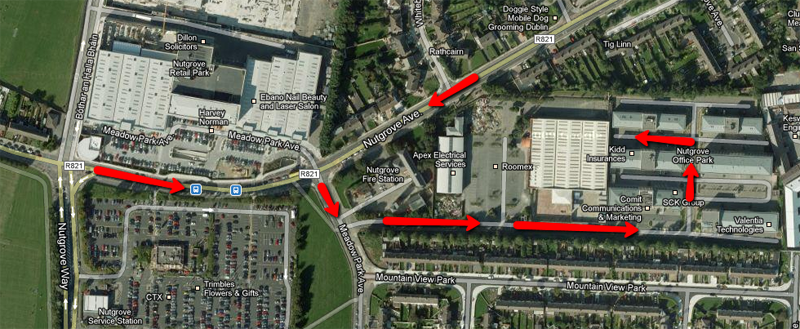 Coming from Dun Laoghaire/N11/Stillorgan etc:
Follow signs to Dublin N31. At Blackrock, turn left into Mount Merrion Avenue [signposted N4, N7]. At the top of Mount Merrion Avenue, the junction with the N11, turn right at the lights. At the junction with the R112 take at left [signposted Dundrum (N81), The West (N4, N5, N6). At the next junction, with Goatstown Road, go straight head on to Taney Road, passing the Goat Sports bar on your left hand side. At the bottom of Taney, go straight through the set of lights and under the Luas suspension bridge which takes you onto Churchtown Road. Go straight up Churchtown Road for around half a kilometre (you will pass through 3 sets of traffic lights) and take a left turn at the fourth set of lights at the Bottle Tower Pub. Then take the next right, a small curved road, which brings you onto Nutgrove Avenue. Turn left onto Nutgrove Avenue and continue straight for around 1 kilometre until you come to the 2nd set of traffic lights just past the LIDL store and entrance to Nutgrove Fire Station on the left. Turn left at these lights and then take the next left which is the avenue that leads to the Nutgrove Retail Park and the Nutgrove Office Park. Continue down the avenue past the retail park until you enter the Nutgrove Office Park. Follow the avenue around to the left and take the 2nd left turn off the avenue into the road for BLOCK F. Our office is about mid-way down on the right hand side. Th